David Caine L.T.C.L (TD) Cert Ed Music M.I.M.I.T
I first took up playing the tenor horn in 1956 aged 12. I initially wanted to join Thornsett band with my brother who was 2 years older than me but he didn't want his younger brother tagging along with him so I joined New Mills Band.
Hayfield Band – 1957 (David Caine 2nd from left)
Three years later in July 1959, I enlisted as a band boy into the Cheshire regiment aged 15 taking up French horn as at that time all army bands were brass and woodwind (military). After 2 and a half years of training at Lichfield, I was chosen to attend a one-year course at Kneller Hall, the Royal Military School of Music, to undertake tuition in harmony, aural, and military band instrumentation along with French horn lessons from one of the leading professors from one of the professional London orchestras.
On completion of the course at Kneller Hall I was then posted to the Cheshire regiment band in Germany which is really where my musical career took off after 3 and a half years of training. Whilst serving with my county regiment I toured extensively throughout Europe and at one point a 7-month tour of the Persian Gulf serving in Bahrain. Whilst serving there I conducted a voluntary RAF band which was the start of developing my conducting skills.
No matter where I was posted whether at home or abroad I always made the effort to get involved in local bands either as a player or a conductor when called upon to do so. Whilst serving with the Cheshire regiment I was often asked to play other brass instruments within the band as and when required as at this time, bands were becoming smaller due to national servicemen coming to the end of their two-year conscription. I wasn't happy about this at the time but it proved invaluable when I later took up teaching in London.
After a number of years with the Cheshires I felt it was time to move on and so transferred to the Grenadier Guards in London which was a permanent posting. The Grenadiers' director of music at this time was Major Peter Parkes who went on to make a name for himself in the brass band world which was surprising given his main instrument was the clarinet. An outstanding musician who I learnt so much from.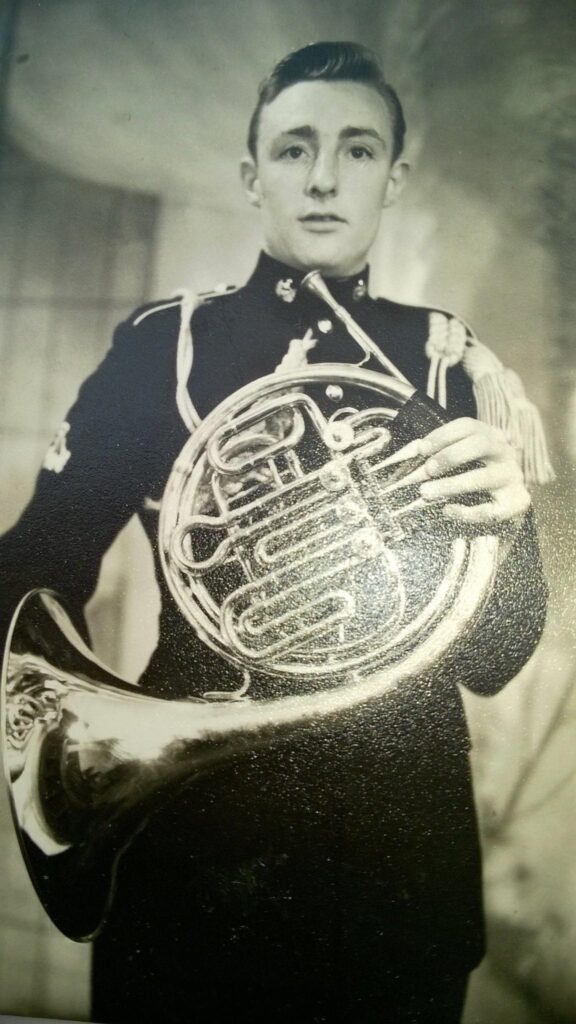 David Caine at Kneller Hall
Windsor Castle, changing or the guard – 1971
The work with the Grenadiers was busy and yet varied with orchestras, changing the guards, state visits plus tours to Australia, America and Hong Kong. Coupled with this there were lots of broadcasts and recording engagements along with bandstand engagements at Eastbourne and Bournemouth.
Whilst serving with the Grenadiers I undertook 5 afternoons of teaching for the inner London education authority music department, teaching in schools in the inner city which gave me the opportunity to use my skills picked up whilst serving in the Cheshires playing different instruments with different ensembles.
I really enjoyed my teaching time which prompted me to think of a career change at some point rather than continue my service and return to Kneller Hall and train as a bandmaster.
Whilst on leave, I met up with the then conductor of Marple band Morris McClean who asked me if I was interested in a teaching post with the Manchester music department teaching brass but specialising in French horn. I applied for the job and was accepted. I stayed with them for over 30 years. Finishing as a senior brass tutor and coordinator for orchestras and bands. During this time, there was also the opportunity for me to teach at the RNCM with post-grad students interested in taking up peripatetic work.
A sideline which I picked up in London was that of an instrument brass repairer. Being taught by a Hungarian who came to England during the uprising working for Boosey and Hawks then eventually setting up himself in Kilburn. I became great friends with him and I regularly went to his shop where he taught me many skills. A skill which I carried on whilst working for Manchester.
During this period I took up conducting Marple band with Morris McClean before moving on to the Adamsons Military Band. Gary Cutt took over from me at Marple taking the band on to greater things.
My association with the Marple band goes back to the mid and late 50s when it was being rebuilt by Charlie Ingham. I'm still a playing member today being brought out of retirement by my grandson who took up playing the trombone along with euphonium. In one respect I've returned to my roots although blowing doesn't come so easily now at 79 so hopefully, I shall leave my grandson to carry on the links with Marple band.
David Caine L.T.C.L (TD) Cert Ed Music M.I.M.I.T