The Marple Band is a 'traditional' brass band based in the prosperous and vibrant town of Marple, just to the east of Stockport and on the edge of the Peak District.
In the 21st century, 'traditional' doesn't mean staid and we enjoy playing an eclectic blend of quality music, at a high standard to entertain audiences of all ages and suited to all occasions. Our engagements include all-year-round concerts in pubs, clubs and halls plus summer 'proms in the park' and charity work as well as joint fund-raising events; whilst enhancing the band's relationship with its valued local community. We even have a Bierkeller Band for Oktoberfests and private functions.
In March 2014, the band achieved Second Place at the North West Regional Brass Band Championships in Blackpool, therefore qualifying for the National Finals in Cheltenham in September of that year. The result was another historic win for this famous band, making us National Champions, and promotion to the First Section in January 2015. After several years in 1st Section, the band moved back down to the 2nd Section in Jan 2022.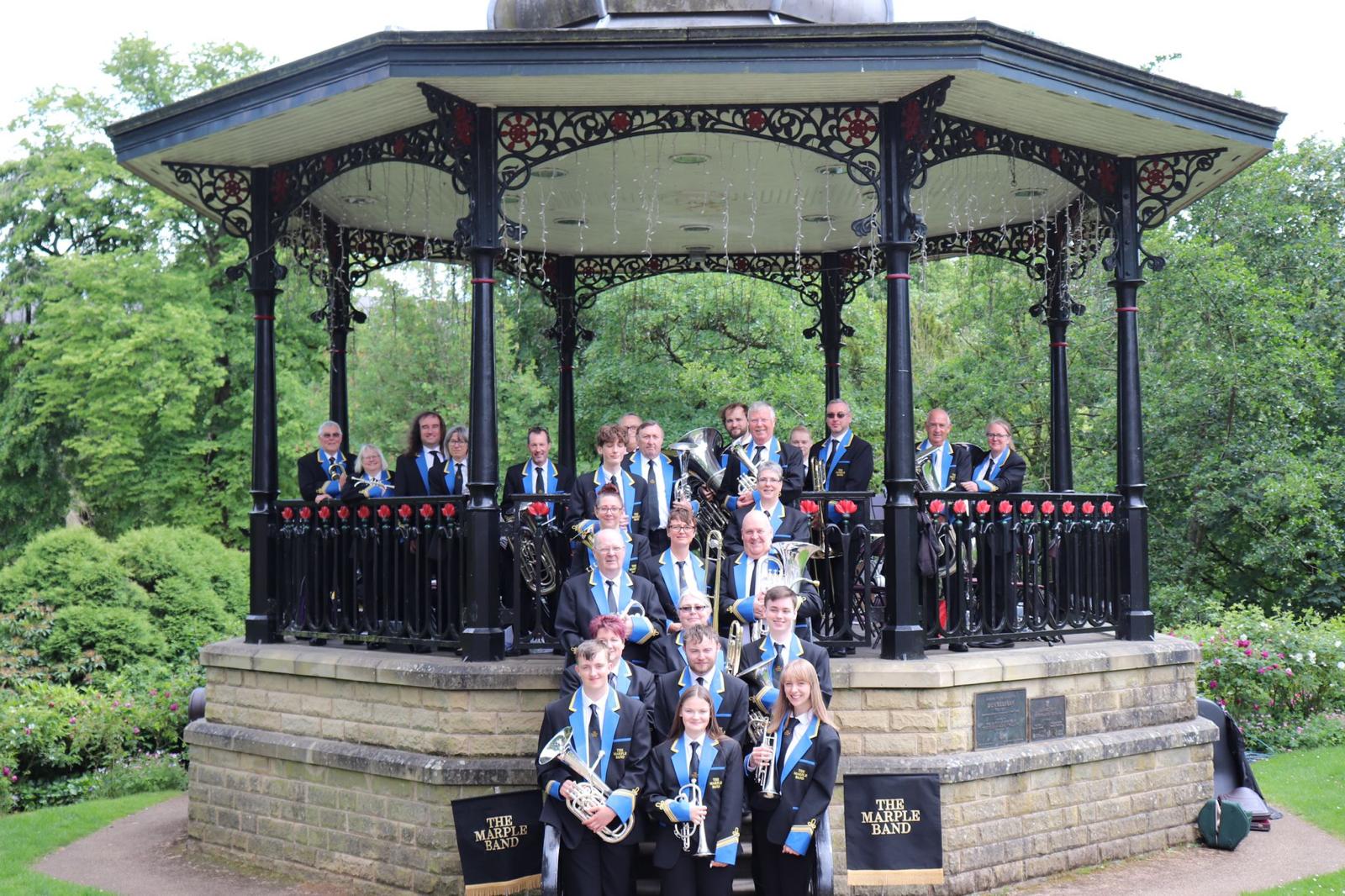 The band enters other competitions, including the Whit Friday March Contests, Darley Dale Contest and Buxton Brass Band Festival, which have delivered several recent trophy successes.
We are not a sponsored band and rely for funding solely on contributions from band friends and supporters, fundraising and earnings from public performances. If you would like to become a supporter, please contact us.
Are you after a new challenge or a player who has recently relocated to the Stockport area? If so, please get in touch and come to one of our rehearsals.
We welcome keen and accomplished players to join a friendly band with a good, manageable balance of concerts and contests. We are interested in genuine, enthusiastic bandsmen and women who are dedicated to music and with a true passion for playing.
Rehearsals are held twice a week (Tuesdays and Fridays, from 8:00 – 10:00 pm) at our own purpose-built band room in Marple. They are industrious, but lots of fun. We can provide an instrument or you can use your own.
Become part of a friendly, affable team with plenty of post-finale socialising opportunities!
If you are interested in joining a dynamic and fun band, you can see our current vacancies on our Band Members page or contact the Band Secretary for more details.