I was incredibly lucky to join Marple Band, as a supporter, for Whit Friday 2019. Honestly, I wasn't sure I was looking forward to being outside for most of the evening as it had done nothing but rain all week, however, the weather was kind and largely held off (aside from Carrbrook where I regretted not having an umbrella!).
The bus was a typical band bus with lots of banter, mainly picking on the poor cornets, and a few smelly egg sandwiches but it was lovely to witness the happy and noisy atmosphere and to see just how good friends they have all become as a band.
It was also very clear to see just how much everyone enjoys Whit Friday, despite it being tough on the lip and on the two expert runners Marple had that night, Ruth and Jackie. David, the usual runner, was deeply missed (he had a very poor excuse of being at work!! BOO)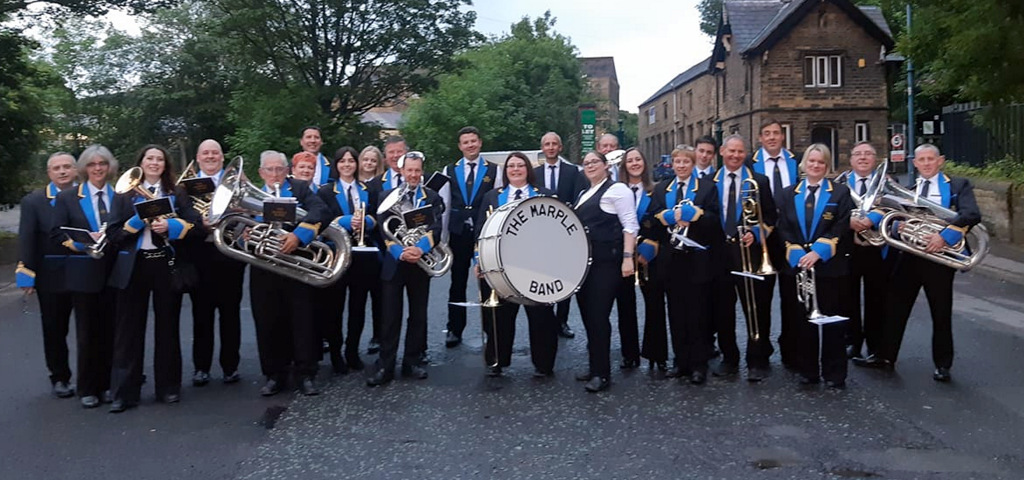 The band decided to do Tameside to hopefully give the band more chance of playing at more venues and I was happy to say they managed all 11.
The crowds at each venue were in great numbers and it was so lovely to see members of the public enjoying the night just as much as the bands.
As usual, they finished the night at Denton Cricket Club where everyone ran to the bar. Even the good old bus driver got into the spirit and gave them a little longer before departure.
Hopefully, everyone had a great night and I even hear they picked up a few prizes which is wonderful!
Thank you so much Marple for allowing me to be part of your team for the night. You are a lovely warm welcoming band and I had a great evening.
Here is to Whit Friday 2020!
THE RESULTS
Highest 2nd Section at Carrbrook with a £150 prize.
Best 2nd section at Heyrod – £100 prize.
Highest placed 2nd section at Tame Valley – £100 prize.
Article by Amy Sutton