Julia Robinson
When I was 7 we were told to line up in the hall of the primary school and when it came to the head of the queue it was our turn to say what instrument we wanted to play. I didn't know anything about instruments, so I just said, "I want to play the biggest."
In those days you had to have lost your milk teeth and have strong front teeth, so for a year I played the baritone, and then I got to play the biggest instrument in our little band: the tuba. I remember the absolute joy of playing "The A-team" something I'd only heard on the silver screen!
I went on through the school system to be in the Stockport School's senior band where we toured Austria and also played in the Royal Albert Hall as national champions in 1987. It is also the first time I had a spiritual experience of feeling I had become the music, floating in a chord, not being in a body. It felt sublime.
Going to university I had to give the tuba back to Stockport Schools and as a result, I didn't have an instrument, so I didn't play for 20 years. I sang and played the guitar badly. Until I realized I missed playing music together in a band so badly and bought a flugelhorn because it was much cheaper than a tuba. I went on then to play the trumpet, which I played in a manouche jazz Band in Barcelona.
Julia Robinson, School Days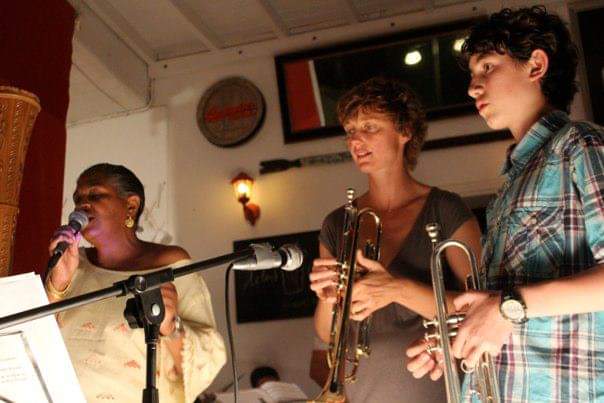 Julia during her time in Greece
When I moved to Greece I played in a duet with a pianist.
As a traveller I often crash landed in England for several months and was allowed into Marple band each time which saved me often psychologically and emotionally. Music has been a saving grace, a soothing element in difficult times and a way to express joy in good time. Also playing together creates bonds inexplicably with others. Further it's international, even if you can't speak the local language reading music is international. It's a wonderful way to make friends. It's not a far cry to save music (and poetry) has often saved me in the rollercoaster of life.
Part of the traveling community
After traveling to the States, I returned to England for 4 years and played in Totnes Brass Band on the cornet. I also set up the A-Team quintet, which was for my dear friend, John, who had started to get Alzheimer's and couldn't play in the main band any longer. We used to play in the old folks' homes. Such fun!
I went to live in Latvia, and I played in the Latvian University Wind Band and also the Riga City Big Band. I learnt to solo in public (not very successfully, but I did it!).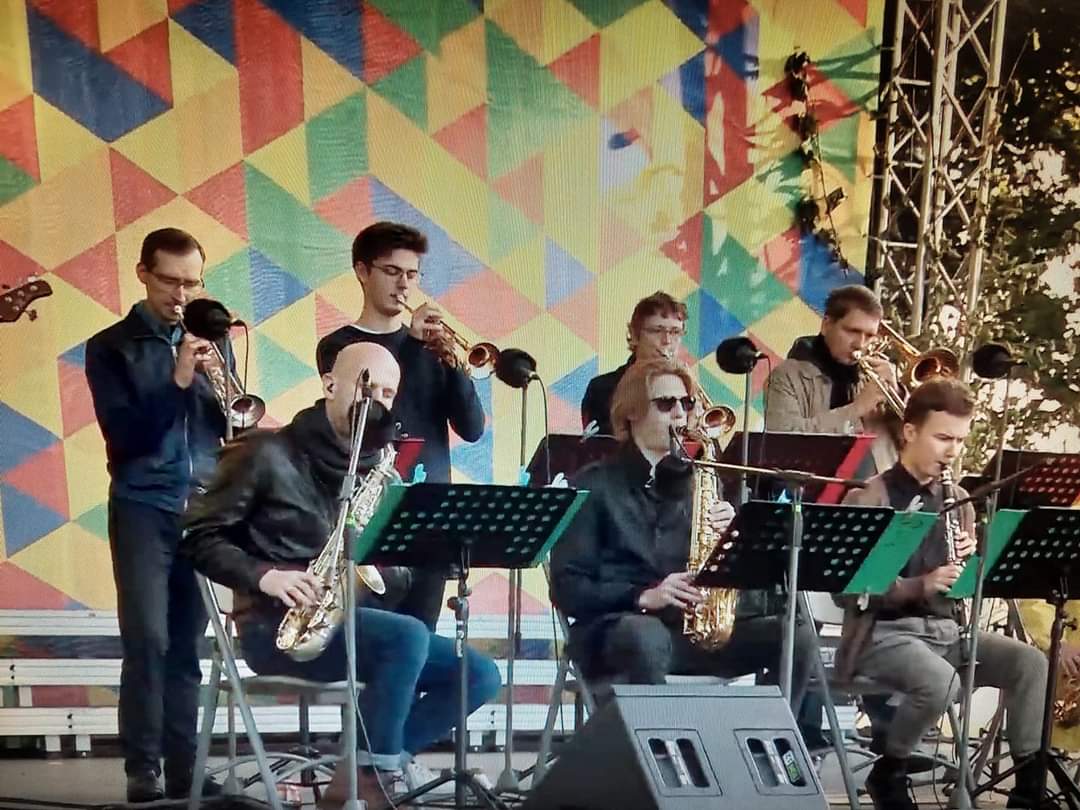 Latvian University Wind Band
Now I have returned indefinitely to England and I've been in the Marple Band for a year and a half! I started on the valved trombone, moved to the cornet and possibly will be moving to the baritone. The band allows me to be as unstable musically as I have been geographically!