Susan Hocking
I remember the first time I fell in love vividly; I was 10 and playing solo euphonium for the Sandwell Training Brass Band in West Bromwich town hall.
We were doing a joint concert with Sovereign Brass, I think, and a guy called Adi stood up with a tuba and played an unbelievable solo. I was smitten by the warmth of the tone and the incredible range of sounds possible with this wonderous instrument. By the time I went to secondary school, I'd passed my grade 5 on the tuba and had joined my first orchestra. All my spare time was spent in rehearsals or practicing. I was lucky enough to be part of Sandwell Youth Music so had the opportunity to study with Stuart Bernie, a tuba specialist as well as play in a wide range of ensembles from concert bands to orchestras, and brass bands and we even had a low bass ensemble. Outside of the youth music system, I played with Steve King Big Band which was great fun and gave me a taste for big band jazz.
In 2000 I moved to Manchester to study tuba at the Royal Northern College of Music with Jim Gourlay and Roger Bobo. As soon as I moved up north, I joined a brass band. First Vernon Building Society, Stalybridge Old Band then Besses O'th' Barn under Steve Sykes and BT Band under Mike Fowels. I got all sorts of wonderful opportunities at the RNCM, including performing in the Commonwealth Games opening ceremony, recording music and working with international musicians and composers. I formed an all female tuba quartet called Euphoria with whom I won the prestigious Phillip Jones Prize for brass ensembles and was invited to play at the ITEC in Budapest in 2004.
All female tuba quartet – Euphoria
After college I studied to become a music teacher. I taught secondary music for several years at Great Sankey High School and ran the senior wind band – taking them to Eurodisney on tour and getting through to the finals of Music for Youth.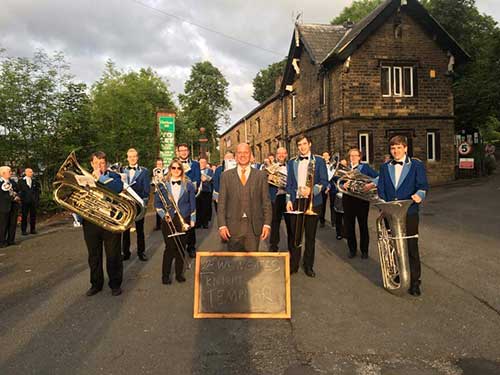 My own playing took a back seat for a few years while I started a family and began working in special needs, rather than mainstream schools. I missed playing so when I got the opportunity to play in Wingates Band, I took it. It was a great return to banding as we came 3rd at Brass at the Guild with Pagentry and 2nd at the British Open with Reflections on Swan Lake.
I also started playing with the Oompah Stompers Bavarian Party band which was great fun and took me to places such as Old Trafford cricket ground, the Magna Centre and bierkellers all over the country
I joined the Marple Band in August 2021 following the easing of covid restrictions. A friendlier and more welcoming band you'd struggle to find. My favourite test piece is Prague by Judith Bingham, my favourite march is Arnhem and if you ask me to pick a hymn it's number 82 every time.